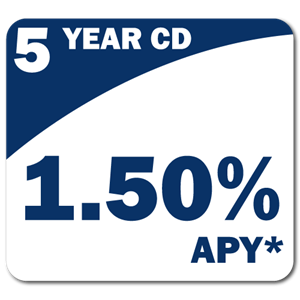 $500 minimum deposit to open and earn the advertised APY
5 year term
Automatic renewal at the prevailing rate
Penalty may be imposed for early withdrawal
Fees could reduce the earnings on the account
Cannot be combined with any other CD bump or offer
Online and Mobile Banking (inquiry only)
Limited time offer
To open a new CD, stop by one of our branches today! Find a location near you by clicking here.
*APY means Annual Percentage Yield. APY assumes principal and interest remain on deposit for a full year at current rate. The APY is accurate as of 10/23/2020. At maturity, the CD will automatically renew for same term at the prevailing rate unless redeemed within 10 days of maturity. Rates and offer are subject to change without notice. Contact a First Guaranty Bank representative for more details.